Eco Friendly Gifts For Earth Lovin' Mamas
Do you have an eco-mom to shop for? "Eco-mom" is a buzz term for women who make environmentally conscious consumer choices that extend into their baby shopping habits. These are women who can decode a product or a nutrition label with impressive accuracy. They typically avoid chemicals and rely on reusables — you probably won't find a lot of unrecycled plastic toys or tableware in their home. In a world where 90 percent of toys are made of throwaway plastics, shopping for eco-friendly moms might feel like a high task but have no fear. Lucky for us all, there's a growing market for gifts that help the environment and are safe for growing littles. 
Whether you're an eco-mom or just shopping for one, below is a list of sustainable gifts you can feel extra good about giving.  
1. Green Toys™ Rescue Boat & Helicopter
What makes this gift different: Green Toys are made from recycled milk jugs and yogurt cups without sacrificing substance or style. How cool is that? This bathtime boat is made from 100% recycled plastic. BPA, phthalate, and PVC free. They even go as far as to print with soy ink! 
Eco-Mission: "At Green Toys, it's our mission to be the world's most trusted, transparent provider of environmentally and socially responsible toys and tableware for children. Sure, it's a mouthful. But it's who we are."
What makes this gift different: Re-Play's spill-proof sippy cups are made from recycled milk jugs and designed with an easy clean silicone valve that guarantees no mess! Dishwasher safe
PVC, BPA, and phthalate-free.
Eco-Mission: "American Made, Family Owned & Operated Since 1987 — Re-Play was founded on the belief that mealtime is family time. Re-Play offers products that are affordable, durable, and sustainable – ensuring you spend less time worrying about mealtime and more time enjoying family time."
3. Family Bamboo Toothbrush Subscription Set 
What makes this gift different: An eco-friendly alternative to waste-creating toothbrushes, The Future is Bamboo offers a sustainable solution for the whole family's pearly whites. This subscription package includes 8 toothbrushes: 4 adult soft toothbrushes, 2 kids Unicorn ultra soft toothbrushes, 2 kids Super Hero ultra soft toothbrushes that are made from biodegradable bamboo, antimicrobial, soft bristle (BPA free), vegan, and cruelty-free.
Eco-Mission: "We started our revolution in 2017 when we discovered that 4.9 billion plastic
toothbrushes end up polluting our oceans and landfills, yearly — We're on a mission to eradicate the world of plastic waste and we want you to be a part of it."
4. "Here We Are" Book By Oliver Jeffers: Notes For Living on Planet Earth
What makes this gift different: This award-winning (#1 New York Times bestseller, A TIME Magazine Best Book of the Year, A NPR Best Book of 2017, A Boston Globe Best Book of 2017) exploration of early consciousness has been translated into over forty-five languages, and sold millions of copies worldwide. Oliver Jeffers, arguably the most influential creator of picture books today, offers a rare personal look inside his own hopes and wishes for his child–and in doing so gifts children and parents everywhere with a gently sweet and humorous missive about our world and those who call it home.
Eco-Mission: "Our world can be a bewildering place, especially if you've only just got here. Your head will be filled with questions, so let's explore what makes our planet and how we live on it. From land and sky, to people and time, these notes can be your guide and start you on your journey" — Oliver Jeffers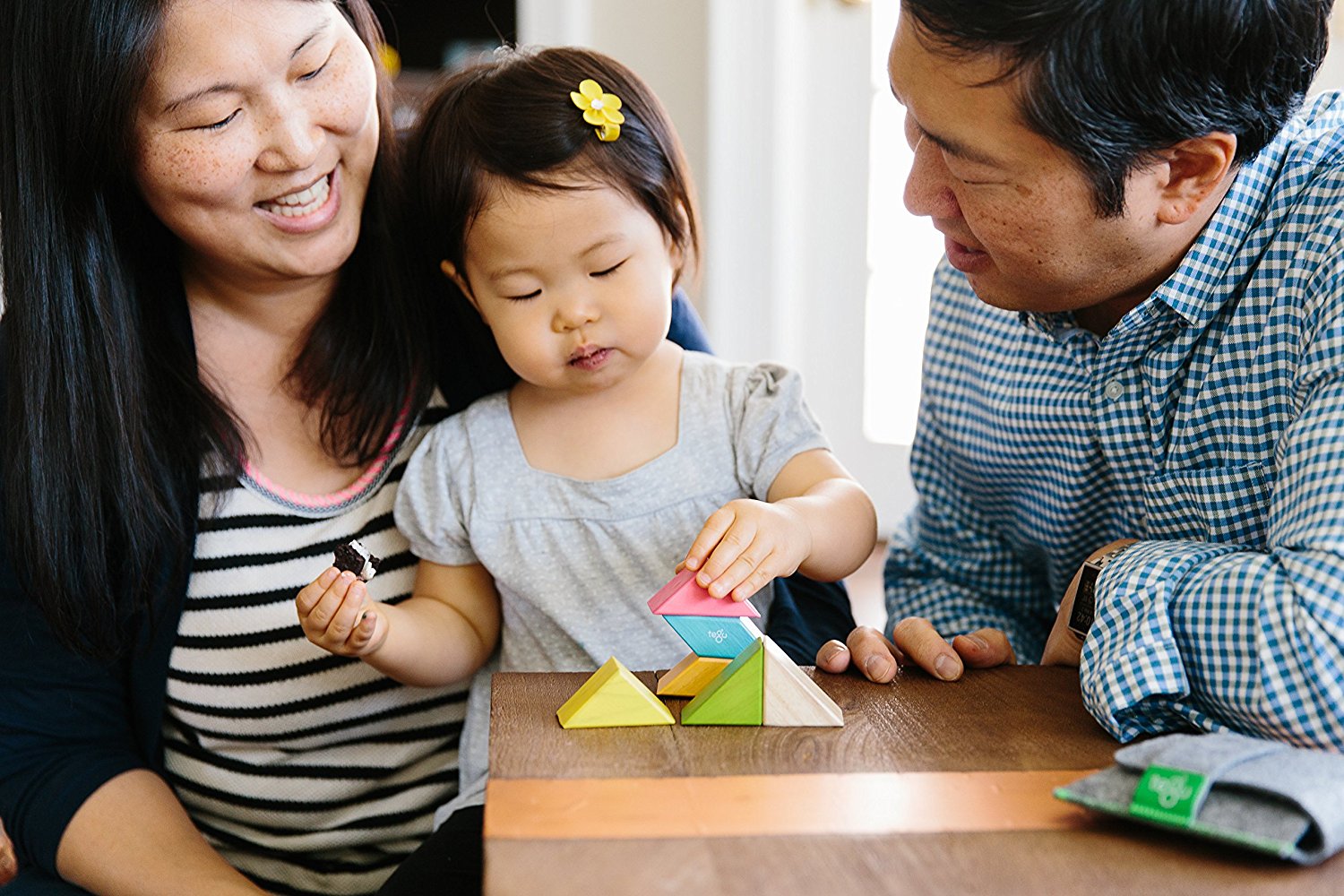 5. Tegu Magnetic Wooden Blocks, Prism Pocket Pouch
What makes this gift different: A sleek and sustainable option for much-needed moments of distraction on the go — It's not just that these wooden toys are magnetic. It's the ability to build beyond the traditional constraints of gravity; now you can build out, not just up! Tegu blocks are made from eco-friendly, sustainably-sourced Central American hardwoods. Safe, non-toxic, water-based lacquers (for colors and clear coats). As a vertically-integrated company, they intimately know their supply chain and suppliers.
Eco-Mission: "Tegu is committed to using its business to bless Honduras, one of the poorest nations in the western hemisphere. When you purchase our toys you're helping create stable jobs. Improving the livelihoods of not only our current 200 employees at the factory in Honduras but at least 361 family members that rely on them."
6. PlanToys Happy Puppy Pull Toy
What makes this gift different: This adorable tug-along dog is made from sustainable rubberwood, coated with a non-toxic finish, and colored with vegetable dye. 
Eco-Mission: "PlanToys mainly focuses on safety wooden toys made of reclaimed rubber woods that enhance development for children, especially during their first five formative years when parents should encourage children to experience the freedom of playing and the proximity to nature —- With a strong mission to create a sustainable world, PlanToys thoroughly concerns about every single step of the production line as well as other activities as we are wholeheartedly committed to minimizing environmental impacts."